News
---
Extended Upgrade
July 2021
This New Rope Robotics video is a quick look at the new extended upgrade in action
---
LinkedIn
Early Summer 2021
We have gained more than 1,600 followers in total due to dedicated and concentrated marketing. From here we have proved that with dedicated work we are able to reach further into the market and gain a broader network around the world.

We are proud that our dedicated work has proven to be successful and we have been able to establish contact with even more windfarms around the globe.

Our followers are further more dedicated to the area of interest, and more than 1/3 of our followers are working with Renewables & Environment. This gives us a great indication of what our followers are interested in, which is why we have a high engagement rate from our updates.
---
Test of Extended Upgrade
Spring 2021
We have been running tests the last few weeks of our upgraded BR-8 robot on a Danish windfarm. During the tests we experienced stunning results.
We learned a lot from the recent tests and can bring even better results from now on due to our upgraded robot and better performance.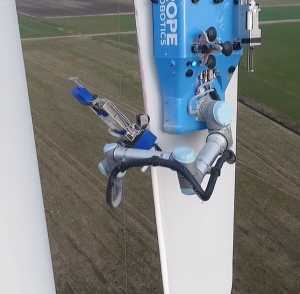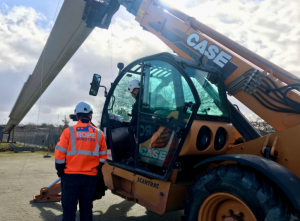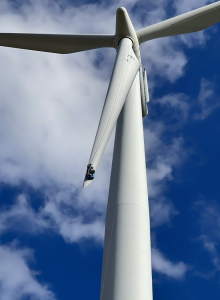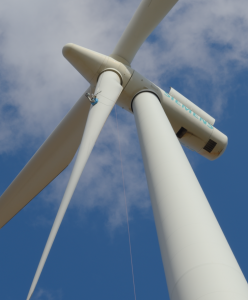 ---
Highlights from the yearly report
December 2020
This report covered the period from February 1st to October 31st 2020 and here we share the list of achievements reached within this project period.
WP1
Communication plan updated (D1.1)
Stakeholder analysis
Massive communication/dissemination activities done
Videos produced check the RR youtube channel
Dedicated H2020 Web released
Amendment approved
All deliverables mitigated successfully within Covid-19 risk
WP2-4
A fleet of 6 robots are fully refurbished and have all been running in the field on commercial terms.
Data acquisition model is updated to the final version. (D2.4)
First prototype ready from the "Extended upgrade to reach the market demands concerning reduced operational process time"
The integration of ancillary equipment is done.
Training procedures for setting up and taking down the robot. (D3.1)
Training concept for the robot pilots are done. (D3.4)
The safety approval procedure is done. (D3.2)
The access point for documentation is defined and available for the customers. (D3.3)
All above are validated within our deployment programs
Deployment programme 1 was finalized at the beginning of this reporting period. Acquired knowledge was transformed and positively used in deployment programme 2, which is also finalized.
WP5-6
Important and rewarding Go-to-market activities planned and executed
Buying behavior identified
Plan for scaling in place
Decided market approach
Scalable business model in place
Procurement agreements signed
Having completed the above, we are now ahead of the amended plan and work hard to be able to finish the project successfully.
---
Demonstration in Canada
October 2020
We made a successful customer demo together with Teknos in Canada
---
2nd deployment programme – Site in SE
August – September 2020
We just finalized final part of the 2nd deployment programme. We have also here finalized 5 wind turbines and again with a very good result.
---
2nd deployment programme – Site in DK
July -August 2020
We just finalized first part of the 2nd deployment programme. We have finalized 5 wind turbines again with a very good result.
---
Follow the project activities on SoMe….
September  2020
#H2020WindTRRo848747
---
Fully refurbished robots
March – June 2020
With the following upgrade we now have 6 fully refurbished robots ready for the 2nd deployment programme.
The upgrades were the following:
Total rewiring
Additional LED lights on robot arm and cabinet
Improvements of cooling system
Replacement of WI-FI with VDSL solution
Improvements to limit dust entry
Reinforcement plate for better stability
New connectors
Pulley got new bearings
Mounting suction cups and support leg
Redesign of Squeegee tool
Installation of electronics tool change
Redesign of wind shelter to paint tool
Installation of fire extinguisher
New vacuum filters
Training programme and Safety approval
During this periode of time we also finalized our
Procedures and training programme for setting up and taking down the robot
Procedure for the safety approval for robot operators handling the robots in the field.
The safety approval procedure is to ensure that the staff working at a site have the relevant certifications, that the risk assessment are reviewed and that the work instructions likewise are updated
---
Commercial launch
April 2020
After the success in Jeffreys Bay we were ready to accelerate our business development phase.
We did an thorough stakeholder analyses and defined our communication and engagement strategy towards each stakeholder group to ensure a targeted information flow.
We had a new and updated video produced and make the first official commercial campaign!
To see the video – click:  The Rope Robotics Leading Edge Repair Solution
We had lots of positive response from the market and have had a lot of very interesting meetings with both customers, partners and suppliers.
Optimization
Simultaneous with all our commercial initiatives we have initiated further optimization of the robot process time.
---
Covid-19 impact
March 2020
Unfortunately, we had to pull our staff back to Denmark and stop the operation in South Africa due to Covid-19 lock-down.
Performance of the robot was proven successful even the job was not fully completed according to original customer agreement
---
First deployment programme resumed in South Africa.
January – March 2020
Middle of January were were again back in the field. This time in Jeffreys Bay in South Africa. This time we did not have instability issues and our improvements worked successfully.
During the test in Jeffreys Bay we also finalized our training and safety procedures. This is only possible if the risk assessments and associated work-instructions are in place as well.
Conclusion was that the Robot and our leading-edge repair solution was ready for commercial launching – proof of business.
We even got the following nice words from Chrisjan Cornelius, Siemens Gamesa Renewable Energy, Jeffreys Bay Wind Farm:
First arrival of Rope Robotics equipment to site seemed to be an ordinary delivery but this soon changed when the container door where opened.
 A well suited office / workshop /store room with everything at your fingertips.
Technology was at the forefront when you step into the Rope Robotics teams workspace.
 Jeffrey Bay accompanied 5 technicians from Rope Robotics during their project duration and it came clear why they where chosen for the this unique career path. They where experts in their field and all round spot-on guys with safety at the forefront.
 With the high risk in elevated work Rope Robotics will be the answer to a reduced risk when doing elevated work. 
 The repair process has to be documented and is of high importance to us & with the robot this was done in the most detailed manner I have ever seen. The robot was in its element every step of the leading edge repair process being it sanding, cleaning, applying filler & spray painting.
---
First deployment programme
June – December 2019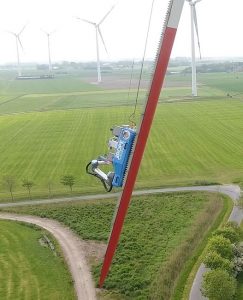 First field test was running summer 2019 in Bassens, North West Germany.  The robot operation is of course the main turning point of the test, but it is also about the planning, preparation and the completion of the set-up. We have a lot of positive highlights from the test:
The operational set-up worked well
The robot upgrades worked well
The site set-up worked efficiently
The communication set-up worked well
The data logging worked well
The repair process became documented down to every specific detail
We repaired blades according to industry specifications
Unfortunately we also ran into serious challenges. Some of the repair process steps were too time consuming due to instability. We went back to our workshop test facilities, ran systematized test sprints which gave us the needed data for a thorough analysis. We fixed the issues and were again ready to go back into the field.
New test planed during winter season in South Africa.
---
Serie of 3 robots constructed
February – May 2019
We have built the 3 robots with new improvements implemented.
We have adjusted the design according to our knowledge gained from earlier testing. We upgraded the robot with a better cooling system, closed off for dust intrusion and redesigned our squeegee tool. The squeegee is the tool used to shape the leading-edge of the blade.
We are ready to start the first deployment programme where we are going to validate the robots in a standard operational environment.
---
Received funding approval by H2020
January 2019
We are very delighted to announce: "Rope Robotics has received funding from the European Union's Horizon 2020 research and innovation programme under grant agreement No. 848747"
The project starts February 2019